High up in the mountains of Sutton there is great hiking summer nature camp that has been running since 2012!
Our camp offers children the space to…
Play and explore the forest,
Hike, and engage in activities both structured and unstructured
Discover the local flora and fauna of the nature reserve
Build forest structures
Play in mountain streams
Create new friendships
Through hiking we aim to foster a connection between young people and the forest. We believe outdoor play –with its risks, is essential to a child's development!
For further reading on this topic click here:
ParticipACTION 2015 - Highlight Report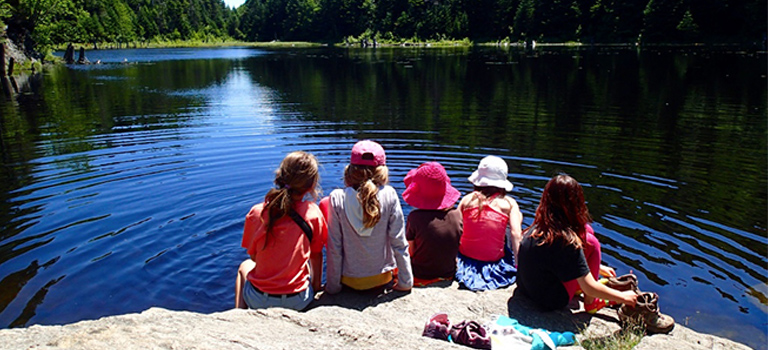 Testimonials
"For the second year in a row, my two children have absolutely adored the PENS camp. They enjoy the days spent walking, hiking and discovering the woods of the Mont Sutton and the camp councillors have always been dynamic, well rounded and fun. The sleepover in the refuge is another hit. It's the only camp they have ever wanted to return too."
Dana C. Sutton resident
"My daughter really loved the camp, especially the instructors who made this camp very special for her."
Slavka L. Résidante de Sutton
"I really enjoyed the camps, especially when we slept over."
Jai, 11 years old
"I enjoyed playing capture the flag when we stayed overnight."
Maya, 8 years old
A typical Day 9-4pm
8h30 - 9h00 : Arrival / free play
9h00 : Forest activities
10h35 : Snack
10h50 : Forest activities
11h45 : Lunch
12h20 : Forest activities
1h50 : Snack break
2h05 : Forest activities
3h30 : End of day activity / free play
4h00 : Pick up or extended daycare
Extended hour daycare
Extended hour daycare is available from 8:00am-8:30am and from 4pm-5:00pm at an extra rate. ($25 per week or $8 per day)
Camp Dates
Maximum 21 kids per week
June 25-29 (7-12 years)
July 1-6 (7-12 years)
July 9-10 (7-12 years)
July 16-20 (7-12 years)
August 6-10 (7-12 years)
August 13-17 (7-12 years)
August 20-24 (7-12 years)
Gear
All campers must have with them on site:
2 water bottles
Sunscreen
Insect repellent
Sac à dos
1 knapsack
1 rain coat
1 rain pants
Running shoes or hiking boots
A bathing suit
A hat
A full change of clothes
A warm jacket (sometimes a tuque and mittens are also needed)
Please note we hike, play and explore rain or shine! It's best to be dressed for the weather.
Campers leave their extra gear with the PENS staff for the week.
Rates
Rates per week tax
$90 with a PENS membership card, July 1-6 (5-6 years 1/2 day 8:30-1pm)
$120 without a membership card (5-6 years 1/2 days 8:30-1pm)
$160 with a PENS membership card
$220 without a membership card
$25 for the nature sleepover
Early and late supervision: $25 for the week or $8 per day
Registration
Camp fees are due in full when you register your child. Payment can be made in person at 900 Chemin Réal, Sutton, Quebec (at the PENS ticket booth). If you would like to pay online via PayPal the full amount of your camp fees is required upon registration. Registration opens in March.
Relevé 24
We don't issue relevé 24 because we do not a have high enough volume. The camp fees can be used in your tax return by indicating our NEQ (1145880887) as the reference number.
For more info please contact This email address is being protected from spambots. You need JavaScript enabled to view it.
Donations
Donations to the reserve are accepted year round for our Youth-Nature program. Charity receipts for income tax purposes are provided for donations $20 or more. We also accept donations of field guides, binoculars, butterfly nets and arts and craft materials.
For more information please contact This email address is being protected from spambots. You need JavaScript enabled to view it.
Volunteer Youth Councillor Program
This program allows youth between the ages of 13-15 years to integrate into our camp animation team and gain experience helping and working with children. This enriching opportunity will provide them with a chance to learn from our dynamic staff and gain life experience.
If interested contact This email address is being protected from spambots. You need JavaScript enabled to view it. with your week availability.
Location
Parc d'environnement naturel de Sutton, 900 chemin Réal, Sutton, Québec J0E 2K0
Contact
This email address is being protected from spambots. You need JavaScript enabled to view it.
450 538-4085